Instead of installing conventional ducted air conditioners, many homes opt to install ductless mini-split systems. Instead of heating and cooling the entire house, a ductless mini-split air conditioning system is a small device that is utilized in only one room. They are more inexpensive and energy-efficient, and they can be added to any room.
Today, many residential, commercial, and community buildings use ductless mini-split air conditioning systems to efficiently and conveniently cool their interiors.
Ductless mini-splits might be the best option if you're thinking about putting a mini-split in a single-family house, many mini split ac systems in multi-unit housing, a large apartment or condo complex, corporate offices, or a community performance center.
They may chill entire houses, tiny flats, or conference and meeting rooms for businesses. For households or commercial buildings that already have ductless air control (heating and cooling) system installations, these adaptable cooling units are also highly helpful and efficient as supplementary cooling sources during summer heat waves.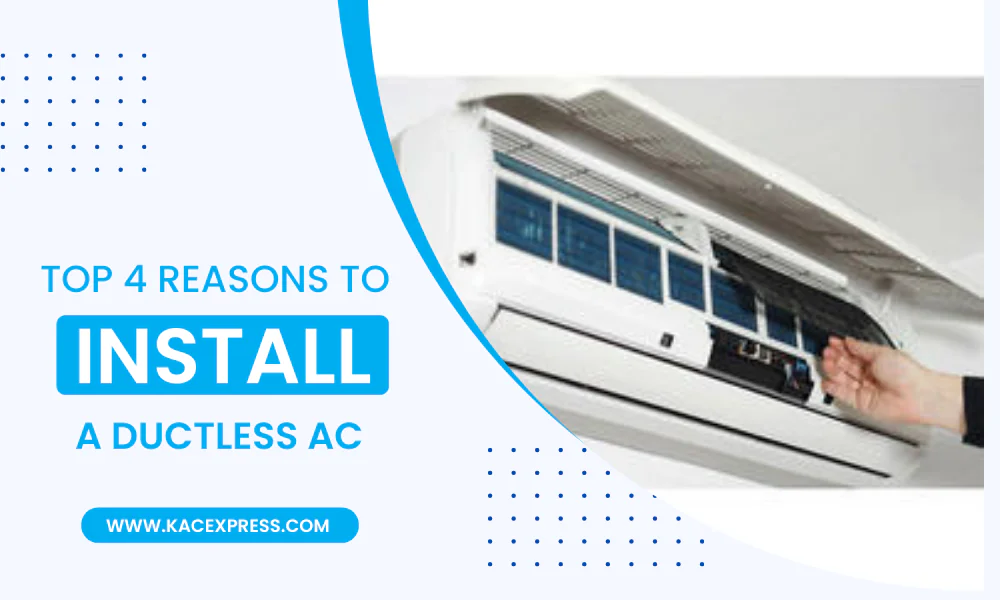 An interior air-distributing device and an outdoor compressor/condenser are the two main components of mini-split cooling systems. The conduit, which has a power cable, suction and refrigerant tubing, and a drain for condensation, are additional components.
These interior and outdoor units are connected to carry out efficient cooling activities. These gadgets are small and simple to set up.
They are also simple to relocate if you need to reinstall them in a different area of your house or place of business to accommodate shifting demands from your family or the workers.
Both of your cooling units—internal and external—can be quickly, easily, and thoroughly serviced if they ever need repairs or changes.
If you're unsure whether buying a ductless mini-split air conditioner is a wise decision, consider these key benefits.
1. Easy Installation
When compared to other types of home and commercial space heating/cooling systems, ductless mini-systems are very simple to install. A conduit can be used to connect the interior and outdoor system units by drilling a three-inch hole through the width of the wall.
You can install your outdoor unit up to 50 feet away from the interior unit because micro split manufacturing businesses can provide consumers with different conduit lengths.
This is particularly useful for building owners or managers who wish to mount the compressor/condenser unit on a side wall of a structure while chilling interior rooms that are at the front or back of a house, an office complex, a showroom, or a factory.
2. Energy Efficiency
These ductless systems do not experience the levels of energy loss that the ductwork used in central air conditioning systems permits since they are not equipped with ducts.
In more typical air conditioning systems, ductwork energy losses account for approximately 30% of energy usage during operation, especially if the ducts are situated in a room or space that is not being cooled.
The majority of micro split users discover that by regularly operating their air conditioner during the hot, muggy days and nights of the summer and adjusting the temperature as needed, they are saving energy.
3. Cost-Effectiveness
Your ductless system's interior air handling and distribution units are each individually controlled, allowing you to adjust room (zone) temperatures using a remote control as desired.
You may easily and conveniently reduce your monthly energy bills by just cooling the rooms in your house or commercial facility that are being used during the day and night.
Additionally, you can cool one or two zones at the time of your original mini-split purchase and installation, adding the remaining zones later if you do not want to spend the money required to chill all the zones in your house or office at that time.
4. Noise Control
Ductless air conditioners operate quietly. Older models were frequently a little noisy, especially when the air conditioning was turned up to chill your house or place of business. However, compared to certain earlier models, the fans of these contemporary mini-splits operate at slower speeds while still providing adequate levels of cooling in each zone.
There is less noise to deal with indoors, especially when the compressor/condenser is placed outside your home or commercial facility. In general, ductless split systems operate more quietly and smoothly than the majority of conventional AC systems can.
Some other benefits
5. They Purify the Air
In addition to cooling and heating your area, ductless systems also remove impurities, allergies, dust, and filth from the air in your house.
This can greatly improve the comfort of the home for the family's allergy sufferers. Additionally, keep in mind that these devices efficiently remove moisture from the air, which means they can prevent the development of mold and mildew. Many models also include a "dry mode" option that allows for dehumidification without cooling.
6. Lowers Carbon Footprint
The zone capability feature of the ductless cooling system allows for improved energy efficiency despite its tiny size. Since these systems adhere to Energy Star standards, they are more energy-efficient than the minimum requirements established by the government.
The increased efficiency not only results in cost savings but also a decrease in overall carbon output. They are regarded as environmentally friendly because they have less of an impact.
When a ductless system is installed, the air quality is improved. Allergens, germs, dust, pollen, and other airborne particles can be reduced with the aid of multi-stage filtration. Because the filters are simple to maintain and reuse, less waste is produced.
7. FLEXIBLE HEATING AND COOLING SOLUTIONS
It's simple to regulate the temperature in every room of your house using ductless or multi-split systems. You may create variable heating and cooling solutions that meet your needs by strategically positioning tiny interior units and a small unit outside your home. You can alter your system to fit your house while still keeping each area at a suitable temperature.
By improving efficiency and lowering waste, ductless air conditioner installation enables you to control the costs associated with heating and cooling your home. There has never been a more comfortable or economical way to heat and cool your house.
If you're looking for HVAC contractors nearby, get in touch with us to find out more about installing ductless air conditioners or to request a free estimate.