Kingwood TX air conditioning heating
Air Conditioning, Heating, and Indoor Air Quality in Kingwood TX by KAC Express
At KAC Express, we take pride in providing quality air conditioning, heating, and indoor air quality services in Kingwood, TX. Our customers trust us to handle all their heating and cooling needs. Join the KAC Express family today, and contact us to ask about our comprehensive residential and commercial HVAC services.
Services Offered in Kingwood TX
Air Conditioning Services – Are you looking for dependable air conditioning services in Kingwood, TX? When temperatures begin to rise in early spring and summer, make sure that your AC system is prepared for the hottest months of the year. We offer installations, tune–ups, and emergency repairs for a variety of air conditioning systems, including heat pumps and ductless systems. Call KAC Express for your next service!
Heating Services – When it does finally get cold in the winter, you want an experienced HVAC company that you can trust to provide you with all your Kingwood, TX heating services. Whether you're in the market for a new furnace or heat pump, or you need a tune–up, give KAC Express a call. We'll find the right solutions to all your heating service Kingwood TX needs!
Contact KAC Express today for savings on heating, air conditioning, and indoor air quality services. We are always offering new specials, so don't forget to check out our promotions page for the latest deals!
Indoor Air Quality Services – For indoor air quality services in Kingwood, TX, call KAC Express. We install air filters, air purifiers, dehumidifiers, and more! Let us help you breathe easier by improving the air inside your home. Call today!
Energy Savings –Our customers know that they can save energy and lower their utility bills by hiring KAC Express to help them out with all their home heating and cooling needs. From installing a high–efficiency HVAC system to match your specific energy saving needs; to providing expert tips on ways to save energy, the home performance experts at KAC Express are here to find the most cost–effective solution for you!
Commercial HVAC Services – KAC Express offers commercial HVAC services for many different types of businesses throughout Kingwood, TX. We offer installations, replacements, maintenance, and repairs. Whether you own a restaurant or apartment building, call on us to help you out with all your commercial HVAC needs!
Services in Kingswood, TX

Let KAC Express help you save money on your energy bills this summer! Whether your needs call for a high-efficiency AC system, a Heat Pump, or a Ductless system, our courteous staff will help you learn what options are right for your home and wallet. Not only can KAC help you plan for the future, we also provide emergency local air conditioning repair in Kingswood, TX seven days a week!*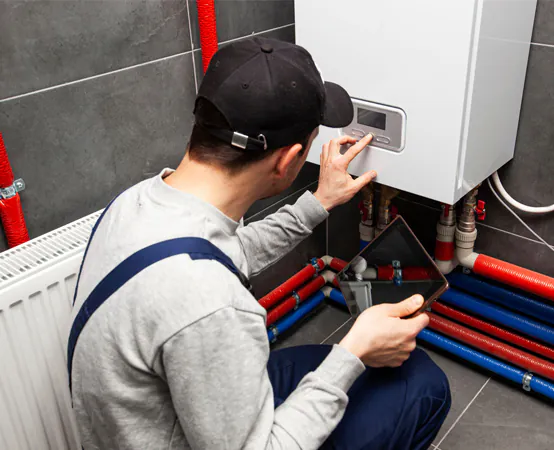 Need Local Heating Repair in Kingswood, TX?
The Gulf isn't far away, and the air it sends our direction is the opposite of warm. KAC Express wants you and your family to be safe and secure in the coldest months of the year. We provide expert maintenance heater repair in Kingswood, TX, as well as evaluations of existing insulation and ductwork. Sometimes catching a big problem early is as simple as having someone who knows what to look for examine your situation. If you're in the market to upgrade your system, or to install an entirely new solution, KAC Express can help there too! Our selection of Heat Pumps, Zone Control Systems and Ductless units is second to none.
Call Our Houston Heating Contractors for Help
with Heating Your Home
Make sure you hire capable heating contractors that you can entrust with the comfort of your home. Our certified and experienced heating service technicians offer a wide range of heating services throughout the Houston, TX area, including the installation and repair of heating systems. You can request an estimate online, or schedule a service call to get started immediately.