HVAC systems have advanced over time and are now an important part of any home or office. A decent HVAC system may help you and your family live in a clean, pleasant environment by eliminating unfavorable conditions in your location.
An HVAC system is made up of multiple components that function together, and it, like most equipment, needs to be maintained regularly because several things may go wrong with it. And if you don't act quickly, it could escalate into more serious and costly issues.
When it comes to air conditioner maintenance, this article aims to inform you on what you can do and when you should call the professionals.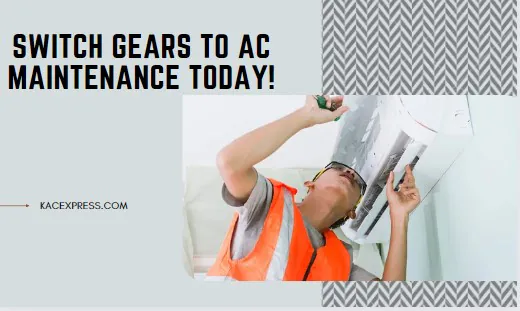 How Often To Service Your Air Conditioner?
According to industry guidelines, your AC should be maintained at least 2 times a year by AC repair experts. It's the same with your heating system. While regular check-ins and cleaning throughout the year are always a good idea to ensure your system is functioning well, a yearly air conditioner service appointment is always required.
When Should Maintenance Be Scheduled?
It is recommended to have two services every year to keep your AC in good health and work efficiently. When, on the other hand, is the optimum time to have your air conditioner serviced?
As previously said, the best time to arrange air conditioner maintenance and HVAC repair is in the spring. The weather is warm enough to operate your air conditioner without concern, and you have a variety of options for arranging an appointment with a skilled HVAC technician. Because spring is our off-season, we frequently offer discounts. Check out our specials for the most up-to-date deals and information.
Why not in the winter?
Winter is not considered the best time for AC repairs. In fact, throughout the winter, we don't advocate running your air conditioner at all. In cold temperatures, your AC unit may not work efficiently because it contains oil.
Even though all areas do not get as cold as other parts of the country, our winter temperatures are low enough that your air conditioner will not function properly. You risk causing damage to your system, which is exactly what you're wanting to prevent. Instead of worrying about your air conditioning in the winter, focus on staying warm indoors till spring.
Why not in the summer?
Many people believe that the optimum time to schedule AC maintenance is in the early summer.  Unfortunately, it's the busiest time for servicemen throughout the summer, so you'll have to compete for time. That's why, to avoid a summertime HVAC breakdown, it's best to be ahead of the game with preventative maintenance well before any harsh weather arrives.
How Much Does An Air Conditioner Service Cost?
Whether you installed central air conditioning or moved into a home with an existing heating and/or cooling system, the cost of annual air conditioning repair and maintenance is well worth it to avoid future AC problems. It will also help you prevent having to repair costly system components such as an air compressor or an evaporator coil.
Some HVAC professionals offer a set amount for routine air conditioner maintenance, while others bill by the hour. The average cost of air conditioner maintenance is around $140-$220, whereas the average cost of air conditioner repair is around $300-$700.
Why Air Conditioner Servicing is Important?
On the hot summer days, we rely on our HVAC systems to provide us with a relaxing cool environment. It is critical to have working heating and cooling units to keep ourselves and our families comfortable at all hours of the day and night. Below are the reasons why AC service is very important:-
1. Stay Healthy
You and your family must remain healthy and breathe clean air. If your AC gets clogged with bacteria, dirt, or dust, it can lead to several health issues, especially if you suffer from asthma or allergies. As a result, following air conditioning service, will thoroughly remove all bacteria and debris, circulating only clean air throughout your room.
2. Improved Air Quality
 You can assure clean air filters and a unit by having your air conditioner serviced regularly. This will ensure that you are always breathing clean air devoid of dust, bacteria, and contaminants.
3. Extend the lifespan
Air conditioners, like most machines, need to be serviced regularly to keep them in good working order. Air conditioners that cost a lot of money are useless if they aren't maintained properly. All parts will be inspected and cleaned with the help of a trained service expert which will help to extend the lifespan of the unit.
4. Minimize Major Failures
We are sure no one enjoys it when their air conditioner breaks down because it disrupts their entire schedule and even frustrates them due to the heat. As a result, it's critical to have your devices serviced frequently to avoid serious breakdowns or malfunctions.
5. Lower Long-Term Costs
If you believe air conditioning maintenance is costly, consider that your electricity and repair costs may be significantly greater in the long term. A unit that is not maintained regularly might cost you more money in the long run, including higher power costs and higher repair fees if substantial repairs are required as a result of poor maintenance. Small faults that go unnoticed can gradually escalate into a larger one, resulting in a breakdown or malfunction. If your AC unit breaks down or has a lesser cooling efficiency, you should anticipate your electricity bills to climb.
Conclusion
We rely heavily on our AC systems in the summers and this is why it is important to have a regular AC service.  You can ask an expert for a service before the summer so that you don't have to experience a bad day due to an AC breakdown when summer arrives. Two services every year is enough to keep the system in good working condition.