New home purchases and move-in are exciting, but also perhaps stressful. There are numerous significant issues and significant costs. One of the most crucial periods in your family's life is now. The new home must be a wise long-term investment for you.
The state of the HVAC system may not be at the top of a new homeowner's priority list because they have so many other things to consider. However, few components of a new house are more important or perhaps more expensive.
The best thing you can do as the prospective or new owner of the property is to ensure everything is in order before you sign anything. Although some service providers or real estate brokers may find this frustrating, it's still the correct thing for you to inquire about and confirm before moving-in.
A house purchase is a significant financial commitment, therefore you have every right to be fully informed about the property. The stages to verifying the heating and cooling system in your new house are listed below.
1. Know Where the Units Are
You'd think it would be easy or even clear, but the first task for a prospective homeowner or property buyer should be to locate the HVAC units. You need to find and observe everything related to the system, both inside and outside.
It might seem absurd, but it would be terrible—and yet it has happened to people—to move into a new house only to discover that the HVAC system is broken, deficient in parts, or improperly constructed.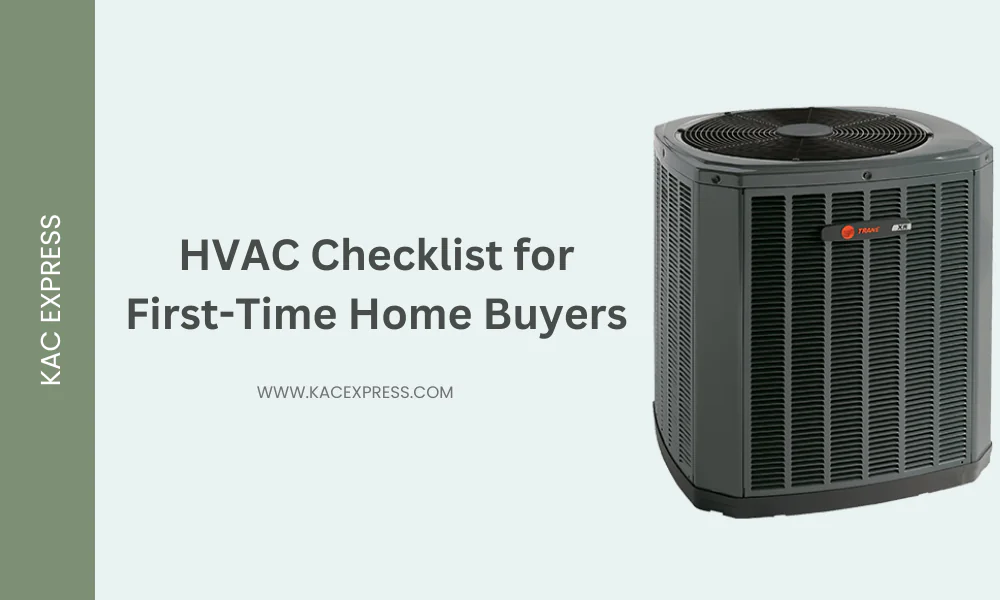 You must perform a self-inspection of the systems and all parts. Without a professional-grade expert and inspection, you can still check out several key items on your own.
Examine any HVAC components or units for any visible damage.
If a property has HVAC units installed in the attic, exercise extra caution or stay away from it. These frequently result in leaks or structural harm.
Check if the exterior condenser unit isn't too close to the windows.
Before signing or approving a contract, it should be essential to confirm that the HVAC system is functioning properly. You have the right to inquire about anything you require. Before continuing, find the correct solution if something is wrong.
2. You Can Also Perform Inspection Work
You probably aren't a skilled HVAC technician or building professional, but you don't have to be. You can do a complete visual inspection. You know enough at this time to call in experts if you need help with problems or repairs.
Do you notice any signs of rust, corrosion, water damage, splits, leaks, or other damage to the system? Use your nose and ears as well.
You were informed that the home has a brand-new HVAC system, but when you visit, it appears, sounds, or smells far from perfect. With such a significant investment, you must be completely aware of what you're receiving, and you need to be aware before your family comes in.
While you're there, it's a great idea and quite legal to test the heat and air conditioning in the house. It will only take a short while. Turn on the heating and cooling and leave them running to check their effectiveness.
Make a note of any hissing or clanging noises that might indicate more serious problems. You don't want to sign the lease and move in, only to discover a few months later that you can't turn on the heat or that it won't work at all.
3. Look at Bills, Records
You should have access to a home's HVAC maintenance history, even if the current owner or real estate agent doesn't like it or seems like you're bothering them. The same holds for other utilities or systems. If you're told "no," it can be more of a warning sign than getting to evaluate them and finding one or two problems.
No matter how old the house or the HVAC system is, start by simply checking to see if regular, routine maintenance has been performed on the systems. You should consider efficiency and the overall cost of heating, air conditioning, and energy.
You don't want to move in and then have to pay for a complete HVAC system failure and replacement a few months later, as much as you can forecast.
You ought to be able to view the property's utility bills. High, odd, or fluctuating electricity bills may indicate a problem. On the other hand, this can inform you that, even if the current HVAC system appears to be functioning normally or if there are no suspicious issues, it may be a good idea to upgrade or renovate soon.
If you notice that your bills have increased recently, it's probably a warning sign. Before signing, you should determine the cause of the issue.
4. Inquiring about the Insulation
This is another detail that you might not consider, but it can reveal a lot about a house. Although the HVAC system may be effective and in good working order, inadequate insulation causes it to lose heat in the winter or air conditioning in the summer. Because the new home's insulation has a big impact on comfort, health, and costs, you need to be aware of it.
Buying a house requires a big investment. Avoid wasting money by attempting to heat rooms with inadequate insulation. More information beforehand can only be beneficial to you. It will help you plan your budget for future insulation work even if you are unable to or choose not to convince the seller to take on this task.
5. Age of the system
To know your heating and cooling system's current condition, you should first be aware of how old it is. According to HVAC specialists, a system is too old if it is 20 years old, and it is considered good if it is 10 years old. It's uncommon for an HVAC system to function properly after a certain age so make sure it is not too old.