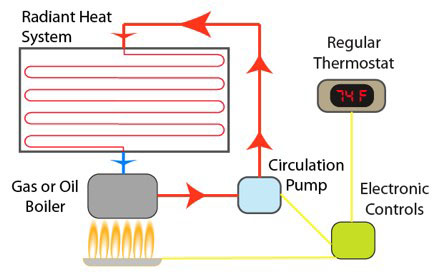 Houston, TX Radiant Heating Systems & Service by KAC Express
If you're in the market for a new heating system, then you may want to consider radiant heating. Radiant systems are highly praised for their even and efficient heat. They use a boiler to generate hot water and circulate it through copper baseboard or, in some cases, an in–floor piping system so that the heat warms your floor as well as other objects and surfaces in the room. Homeowners sensitive to allergies and who want to avoid the low humidity and indoor air quality side effects of a forced–air distribution system should consider using a radiant system.
When it comes to HVAC services, you can count on KAC Express. Radiant systems are just part of what we do, but as with every job, we make sure that you're satisfied with our customer service and with the quality of our workmanship. We provide same day service and flexible scheduling. We offer a wide range of radiant system services in Houston, TX, including installation, replacement, repair and maintenance. Whether you're looking for a new radiant heater installed from scratch, or you simply need radiant heating maintenance, we can help – call us today for help.
KAC Express provides quality radiant systems and radiant system service to Houston, TX and the surrounding areas.
How Does Radiant Heating Work?
There are plenty of options when it comes to installing a radiant heating system in Houston, TX. Depending on the layout and design of your house, your budget, and your heating preferences, we can design a system customized around your heating needs. Radiant heating works not by heating your indoor air directly (like a furnace and heat pump system), but by heating objects within your living space, such as the floor, walls, furniture and your own body. We offer both copper baseboard systems as well as in–floor radiant heating systems. Radiant heating makes for an excellent heating solution, so long as you make sure yours is professionally installed and serviced.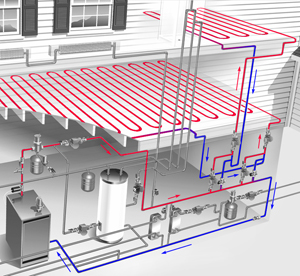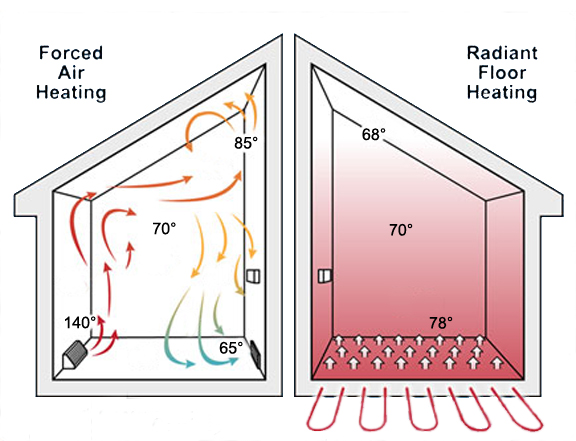 Signs that Your Radiant Heater is in Trouble
Over time, you may notice that your radiant heater no longer functions as it once did. Perhaps, you notice that adjusting the thermostat fails to bring up the indoor temperature as rapidly or effectively as it once did, or that your energy bills have never been higher, despite no significant increase in the amount of heating that you call for. Whatever the case may be, we can help. KAC Express is committed to troubleshooting any issues with your Houston homes radiant system, and we can provide a solution for those discovered radiant heater issues. Whether the problem is large or small, we can be there shortly and take care of it promptly.
Call KAC Express for Houston, TX Radiant Heating Systems and Service
Radiant heating systems make for warm households during the winter. Without the drying effect of a forced–air distribution system, using a radiant heating system may also prevent common indoor air quality issues. Remember to call on the professionals at KAC Express for all of your radiant heating system needs because we will extra hard to make sure your radiant heater works when you need it. And don't forget that you can schedule a service online or schedule an estimate.